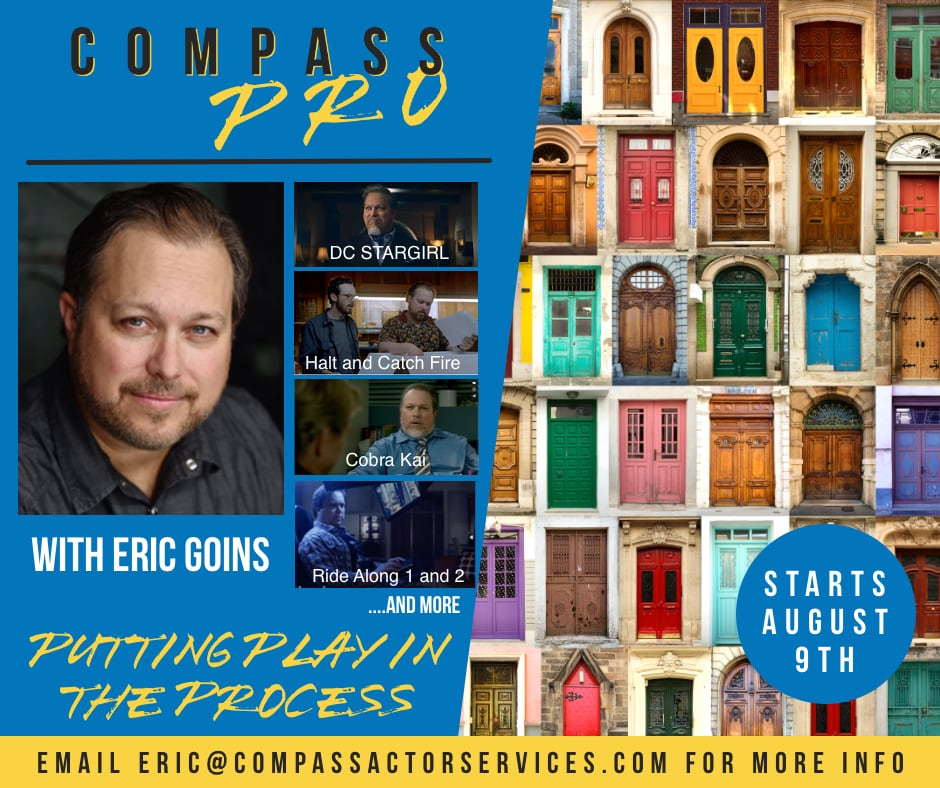 Each Compass Pro Session Includes:
Limit 6 actors/session
COVID Protocol

All participants must provide proof of full vaccination status
Wearing a mask during class is optional
All representatives of Compass Actor Services are fully vaccinated
Anyone entering the studio space will have their temperature checked with a non contact infrared forehead thermometer prior to entering
Anyone having a measured temperature of 100.4 degrees Fahrenheit, or greater, will not be allowed into the studio space
Masks, hand sanitizer, gloves and disinfectant wipes will be available
In person on Mondays from 7-9PM with Eric Goins at Compass Actor Services
A renewed focus on the "process" of being an actor and a commitment to bringing "play" into your work. In addition to taping numerous actors at Compass Actor Services, Eric has performed as an improviser for over 20 years and has successfully adapted many improv fundamentals in his work as an on-screen actor. This class will merge traditional acting techniques with improvisation concepts into an engaging process that helps actors bring their authentic self to their work.
Improv can help actors do the following:

Build self-confidence
Be present
Develop trust in your instincts
Adapt to direction
Become comfortable with the breakneck speed of auditioning 
Get out of their heads and into their heart
Show rather than tell
Visualize and engage your "third sphere" environment
40 minutes of virtual or in-person taping minutes/month
Compass Actor Services has been taping actors since 2015. We provide professional audition taping in a relaxed, nurturing environment allowing you to focus on presenting your best work and booking the job. Our team is friendly and understands the industry so we know the importance of making actors feel comfortable.
(1)-30 minute coaching session/month with Eric Goins
Eric's coaching emphasizes development of an authentic, personal conversation between the actor and his/her scene partner. He values development of an actor's self awareness outside of coaching sessions to help create a character that is inherently unique because of the actor playing it. Review Eric's credits at imdb.me/ericgoins.
Program participants submit their industry questions
Eric will leverage his relationships with agents, casting directors, industry professionals to secure first-hand, reliable answers.
Eric will answer the questions live during a weekly ZOOM sessions for program participants
$265/month
3 month committment
Interested actors must complete the application form below